Add additional collaborators to an award entry
You can add additional 'collaborators' to your entry.

You can set new collaborators to have view-only access or edit access.

When you add a collaborator, they will get an email with a link that allows them to register for Survey Monkey Apply and join your award entry.
You can access this feature from your project dashboard.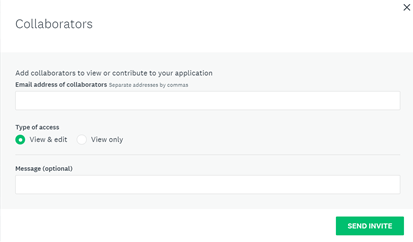 Related Articles

Entering online for Star, SuperStar, Silver and Gold Awards

To enter a project for Star, SuperStar, Silver or Gold Awards, you need to sign up or log in to apply.crestawards.org. Once you've logged in, you can create a new entry by clicking on View Programs or Programs. On the Programs page, select the ...

How do I add students to a project?

Student names are printed on CREST certificates for Discovery, Bronze, Silver and Gold awards. You'll want to make sure they're correct before you order your certificates. CREST Star and SuperStar certificates are left blank for you to complete, so ...

How do I change the Award level of a project?

If your students have done more or less work than you anticipated on their project, you may wish to enter them for a higher or lower Award level. If you have already created the project online yourself, contact CREST Support to change the Award ...

Star and SuperStar activity structure/assessment criteria

Star Superstar Problem solving Students explore a clearly defined question presented through a story that relates the scenario to their everyday life Students explore a question or idea presented through a story and are supported to think about ...

How should my group submit for a Silver/Gold Award?

Groups can submit in a number of ways for a Silver/Gold Award. There are 3 main options. *Please note, if you have a group who have worked on separate projects, these will need to be submitted separately. One project/team per submission.* 1) Submit ...