Enter your students' project into The Big Bang Competition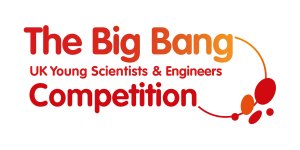 The Big Bang Competition provides opportunities for young people to showcase their STEM projects and be
recognised
and rewarded for their achievements. CREST and The Big Bang Competition provide an excellent forum for students to discuss, challenge and share ideas.  
Finalists in The Competition will be invited to The Big Bang Fair where they will compete for a range of prizes, including cash prizes, business & industry sponsored awards, international opportunities, top and runner-up prizes in the Junior, Intermediate & Senior categories for science and engineering, and the coveted title of GSK UK Young Scientist & UK Young Engineer of the Year.


Entry takes place via two routes:
Regional heats: Projects showcase their work at selected Big Bang Near Me Fairs from January to October each year

Online heats: You can enter online between July and November. Check the Big Bang Competition site for details.



Related Articles

Enter an Extended Project Qualification (EPQ) for a CREST Award

If your students are working towards an Extended Project Qualification in an area related to science, technology, engineering or maths, they can gain extra recognition for their work by entering your project for a CREST Gold Award. There's a lot of ...

How do I add students to a project?

Student names are printed on CREST certificates for Discovery, Bronze, Silver and Gold awards. At Discovery and Bronze level this is optional. You'll want to make sure they're correct before you order your certificates. CREST Star and SuperStar ...

How do I remove students from a project?

Star and SuperStar Awards You can add or remove students at any time during the entry process by editing the numbers in Tell us about your group, so that you are charged the correct entry fee and sent the correct number of certificates and badges. ...

The different types of CREST project

Looking for what kinds of project you can complete at home? Check out our At Home version of this article, which includes tips on how to convert a Practical or Design & Make project to a Research or Communication project. This article primarily ...

How to create Silver and Gold CREST projects on Survey Monkey Apply

To sign up for Silver and Gold projects go to apply.crestawards.org and create an account. Creating a project can be done by a student or educator, or by an organisation. Once you have activated your account, log in and you will be taken to this ...