I'm leaving my current organisation, how do I hand over my projects?
Discovery and Bronze projects
If you are using your CREST account to manage CREST projects, you can transfer your account to a new owner.
From the CREST menu, go to Account settings.

Change the name and email address to the ones for the new project owner. Make sure you give them your account password too!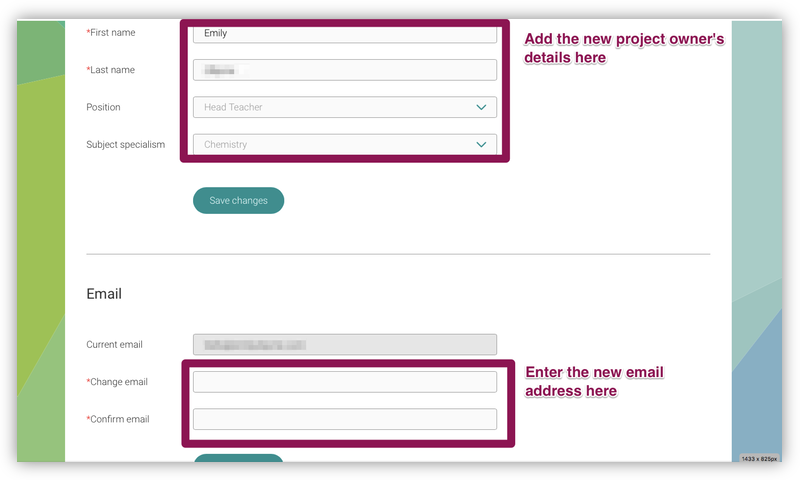 The new project owner will get an email so they can verify their address. Once they've done this, they can log in to the CREST account and manage the projects you created.
Silver, Gold, Star and SuperStar
You can transfer your Survey Monkey Apply account to a new owner.

Go to Account settings, and update the name and email as needed to reflect the new owner of the account. Make sure you give the new owner your account password too.


Related Articles

How do I change my CREST account email address

Discovery and Bronze Awards You can change the email address associated with your CREST account in account settings. Once you've changed your email address in your CREST account settings, you will get an email from us so that you can confirm it's the ...

Creating Discovery or Bronze Award projects

To create a project for Discovery or Bronze Awards, you need to sign up or log in to My CREST Account. From your CREST Dashboard, choose Add new project. On the next page, select the right award level - Discovery or Bronze - and choose Continue. On ...

How do I assess a Bronze project?

CREST Bronze requires students to demonstrate skills including problem-solving, independent learning, organisation, teamwork, and communication. To achieve a Bronze Award, each student should record the work done on their project either in a CREST ...

At Home: How to run CREST Awards

CREST offers parents an easy-to-run system for at-home learning that is child-led, and encourages young people to take ownership of their own projects. You don't need to have much knowledge about science to run CREST at home. Sign up for a free CREST ...

How are Silver projects assessed?

CREST Silver stretches students and enriches their studies. Typically completed by students aged 14+, projects require around thirty hours of work and lead to a body of work. This work could be a written report, video diaries or something else ...