What do CREST certificates and badges look like?
Star or SuperStar
Students who complete a Star or SuperStar Award will receive a non-personalised certificate and iron-on fabric badge. We've included a preview of certificates and badges below:

CREST Star and SuperStar certificates



Discovery, Bronze, Silver and Gold
Students who complete Discovery, Bronze, Silver or Gold Awards, will get a personalised certificate. At Discovery and Bronze level there is also the option to receive certificates without the student name. The certificate includes the CREST logo and either purple, bronze, silver or gold foil, depending on the award level. We print the student's name [optional for Discovery and Bronze], school, college or organisation, and project title on each certificate. We've included a preview of the personalised certificates below: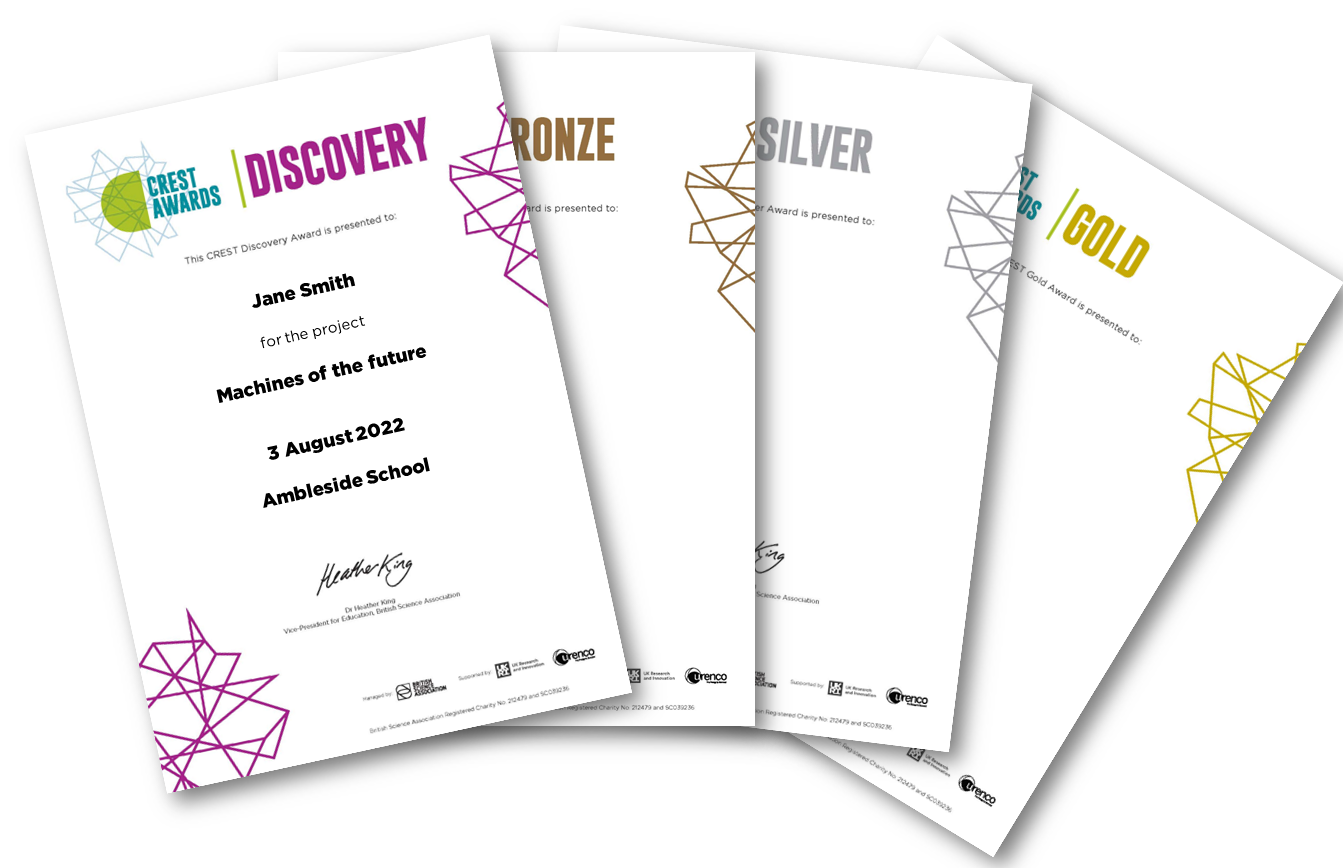 CREST Discovery, Bronze, Silver, and Gold certificates
Related Articles

I haven't received my CREST Award certificates

For Discovery and Bronze Awards we print and post your certificates once you've paid your entry fees. For Silver and Gold Awards, we print and post your certificates once once our assessor has confirmed that you've successfully achieved the Award. ...

CREST for underrepresented audiences funding

Engage Grants (formerly known as CREST for Underrepresented Audiences grants) are available twice a year to help support UK schools to run CREST Awards. Schools that have high numbers of pupils who are often underrepresented in STEM are encouraged to ...

CREST entry fees for Welsh students

CREST Award fees for students in Wales are paid in full by the Welsh government. This arrangement will continue until at least 31 March 2025. Please choose Wales as your delivery country when asked. This will ensure you aren't charged for your Award ...

How do I change my project title?

The project title is printed on CREST certificates for Discovery, Bronze, Silver and Gold awards. You'll want to make sure it's correct before you order your certificates. Discovery and Bronze Awards For certificates where you have chosen to have ...

Enter an Extended Project Qualification (EPQ) for a CREST Award

If your students are working towards an Extended Project Qualification in an area related to science, technology, engineering or maths, they can gain extra recognition for their work by entering your project for a CREST Gold Award. There's a lot of ...