The CREST Awards scheme is the British Science Association's flagship programme for young people, providing science enrichment activities to inspire and engage 5-to-19-year olds. The CREST team accredits resources or activities that meet the guiding principles of CREST and that we feel could be used towards gaining a CREST Award. To run CREST you do not need to be CREST accredited - accreditation is primarily intended for organisations with their own resources who also would like students to be able to submit for a CREST Award and to be able to advertise this using the CREST logo.

There are six CREST Award Levels, allowing students to progress through the scheme throughout their education. CREST supports students to solve real-life science, technology, engineering and maths challenges through practical investigation and discussion.

What is CREST accreditation?
CREST accreditation is designed to enable other organisations to offer CREST participation to students taking part in their resource (either entire awards, or 'credits' towards a full award). We accredit individual activities, not entire schemes or organisations, so each activity would need to be independently approved by the CREST awards scheme. You do not need to be CREST accredited to direct people to complete a CREST Award once they have completed your resource or programme.

Requirements of accreditation

CREST accredited activities must:

Usually reach a minimum of 200 students per academic year - N.B. this number is flexible, particularly at Silver and Gold levels

Meet all the relevant CREST guiding principles (or provide details of additional work students could complete after your resource/activity to meet the criteria) – see Appendix 1

(For Bronze, Silver and Gold levels) enable students to meet at least 11 of the 15 CREST criteria, which they will be assessed on – see Appendix 2

Roughly meet the required hours per level (or provide details of additional work students could complete after your resource/activity to meet the hours)

Approximate hours per level are as follows:

Star/SuperStar - 1 hour per resource, 8 hours total

Discovery - 5 hours

Bronze - 10 hours

Silver - 30 hours

Gold - 70 hours

What are the benefits of CREST Accreditation?
A framework and project management tool for STEM schemes/activities

Enhanced credibility for the scheme/activity, from the positive brand reputation of CREST among teachers and educators

Inclusion of a link to the resource/activity on the CREST partner resource page, accessible from the CREST resource library.
Enhanced reputation for collaboration and a 'joined-up' offer for schools among stakeholders

More opportunities for young people participating in scheme/activity to access regional, national & international events and prizes

Progression opportunities for young people participating in the scheme/activity to take their interest in STEM further using the higher levels of the CREST framework

Increased impact for the resource, including reach and benefits for those who take part.

Access to the CREST logo, opportunity to use the logo to market your resource/activity as CREST accredited

While all CREST levels can have accredited resources, accreditation does not guarantee that participants will achieve their award when assessed at Silver and Gold level by our trained assessor. Accreditation simply means a programme fits the criteria enough that it can fully or partially be used to apply for an award. Participants wishing to subsequently submit for a Silver or Gold Award will still need to refer to the
CREST criteria
when writing/creating their project report, and filling in their profile form.
More questions?
Below are the answers to some general accreditation questions:

Can you accredit my scheme?

We accredit resources or activities. If you scheme is made up of multiple resources or activities, these will need to each be accredited.

Can I direct my students to CREST even if I'm not CREST accredited?

Yes, certainly. You don't have to be CREST accredited to let people know they might be able to use your activity to meet the criteria and gain a CREST Award.

Can I use the CREST logo without being accredited?

No, not unless you have spoken to someone from the Education or Marketing teams and they have given prior approval for its use.
Does my activity have to be for schools?

No. We will accredit any suitable activity, so please consider activities in your formal and informal programme.

Why do I need to set my activity in a context?

Because research and experience shows that young people engage with science much better if they come across science in a context that they can relate to. It makes science relevant to their everyday lives and not just something that they have to learn in school. Context can be as simple as a story that relates the science to their everyday lives.

What do you mean by working independently?

We would like young people to be given the chance to work on their own, or as part of a small group, without adults where appropriate. This helps them to gain confidence, and helps organisers to resist the temptation to say 'no, do it like this'. However, we don't mean that the adults should sit back and watch! They should, of course, be there to prompt, ask questions and advise on safety concerns and other matters where appropriate.

Why is decision-making a key criteria?

All CREST activities should be based on investigative learning. Our activities might suggest one way to find out, and invite children to think of others. We want that element of choice and decision making to be reflected in our link scheme activities too.

What do you mean by reflection and discussion?

It is all too easy to rush through an activity without giving young people time to sit and think about what they are doing. We want to encourage young people to feel they can talk about what they are doing, and why.

What supplementary materials should I send you if I apply?

If you have a script or a detailed plan for a workshop, or any 'take-home' materials, we would expect to see these. We don't need to see the materials you give the young people, although of course if you think we'd like to see them, do send them to us.

Which CREST level is my activity suitable for?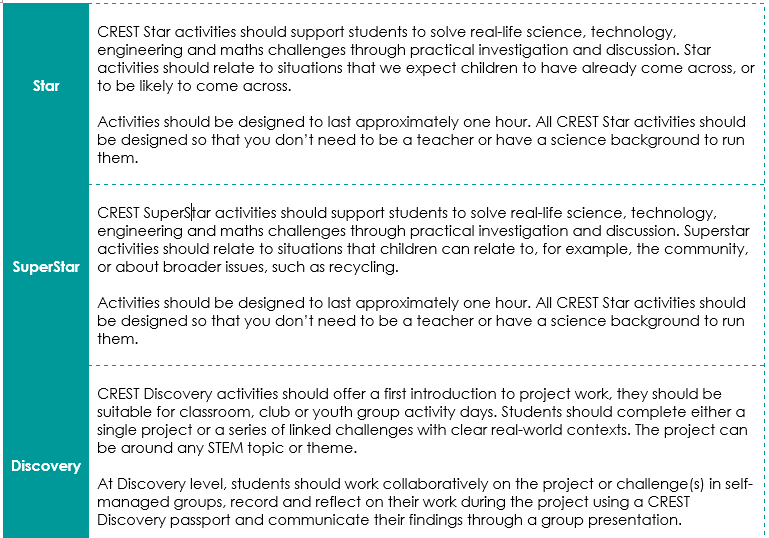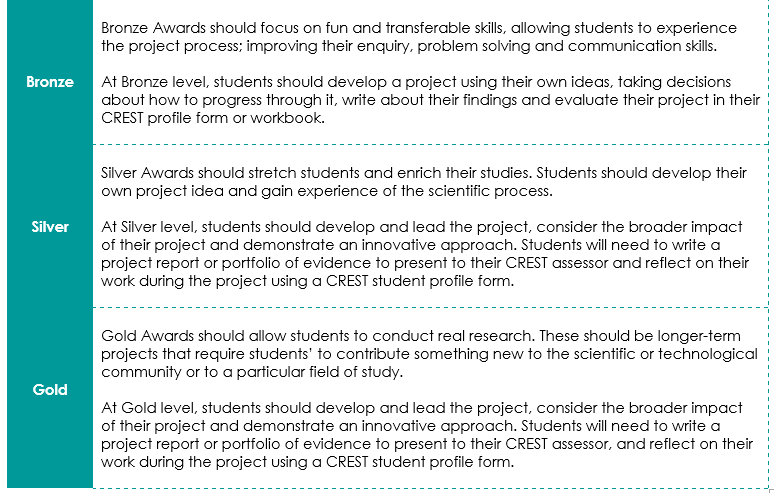 Appendix 1




CREST criteria


How does your activity provide the opportunity for this?








Project aims and objectives





Students can set a clear aim and potentially break it down into smaller steps/objectives














Project context





Project links to everyday life

















Students can consider different ways to do the project and gave reasons for the one you chose














Project strategy





Students have a realistic plan for how to complete their project














Planning and organisation





Students are able to plan the project and organise who does what














Use of material and human resources




Students decide what/who you needed to help them complete the project and explained why

















Students do some background research to help them complete and understand their project














Conclusions and implications




Students draw logical conclusions and explain the impact of what they did














Understanding of project outcome




Students can explain how their actions affected the project outcome and what you might change in the future

















Students reflect on what they learnt














Scientific and/or technical knowledge




Students can demonstrate understanding of the topic

















The activity allows students to make sensible decisions about the project and take safety into account














Creativity





The activity allows for creativity in the way students tackle the project

















The activity allows students to identify and overcome problems

















Students are required to communicate the project in some way-

e.g. in writing and conversation and maybe in a visual way too